Details
FREE DOMESTIC SHIPPING
Clive Barker presents Camille Noire, Feverish, Moribundi and Zain, of the brilliant Tortured Souls 2: The Fallen series.
Camille Noire is a winged angelic being of the new human becoming, whose cranium had a run-in with a circular saw. The figure features surgically grafted wings controlled by biomechanical appendages and other modifications. Camille comes with full fleshy wings attached to mechanical struts that are fully articulated. The saw blade in her skull also spins. She stands at 6¾" tall to the top of the saw blade and is articulated at the neck, shoulders, wrists and hips. Camille also comes with a support stand.
Feverish is a grotesquely large mutation of a man mounted on a surgical slab, giving birth to worms. He is 3" tall and 6" long on his slab, which has wheels and is portable. Feverish comes with an armed apparatus which attaches to the slab which is articulated, as are his neck, right sholder, right wrist and hips. Also included are several birthing and feeding demons attached to chains.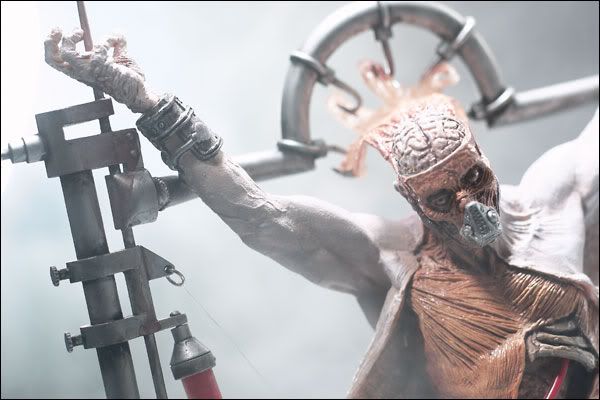 Moribundi is being sacrificed at the altar of science and technology. He "stands" at 7¾" from base to the top of apparatus and comes with portable medical altar with rolling wheels, tray, hooks and feed tubes as accessories. Moribundi is articulated at the neck, wrists and right knee.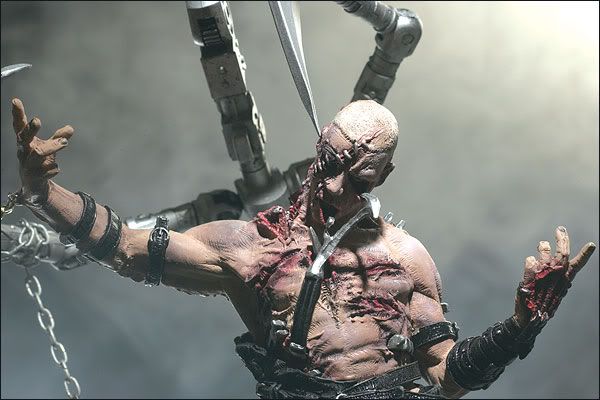 Zain is the face of human suffering. He's strapped, chained and hooked on the mechanical appendage that keeps him hanging. Zain comes with a four-piece custom mechanical stand that he attaches to, which is fully articulated and poseable. He "stands" at 6½" tall. His full vertical position when attached to his stand is 12". Zain's neck, left forearm, biceps, waist, knees, hips, thighs and ankles are all articulated.
These figures are manufactured by McFarlane Toys.